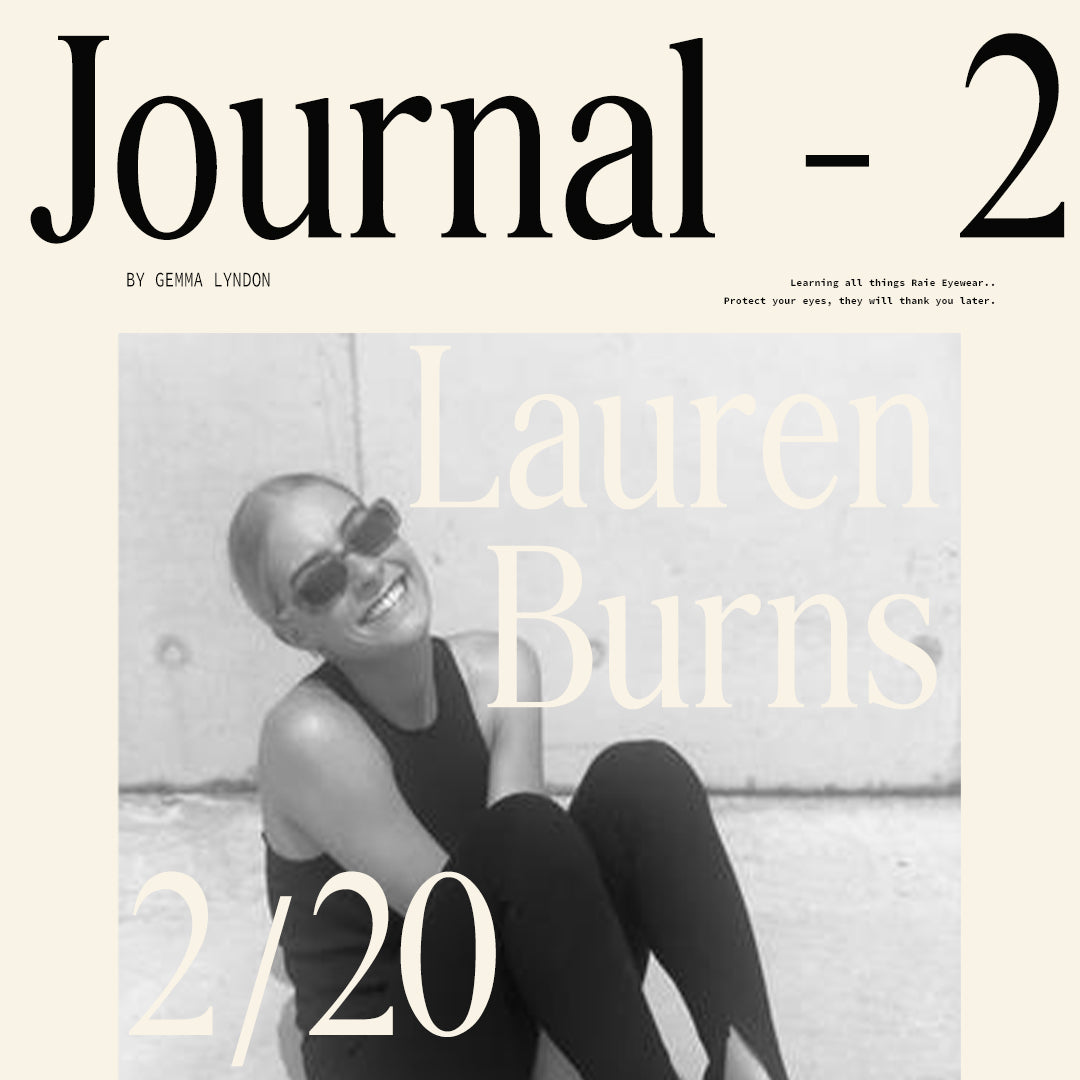 "Our new Butterscotch colourway is inspired by our Country. In all of her moments of beauty and disaster. We wanted to create something that was close to our hearts and wanted to share this with everyone"
We chat to one of our OG #raiegirls Lauren Burns. Lauren's Instagram features a mixture of chic and cool. It is a minimalists dream. Lauren certainly has an eye for style, she often showcases neutral outfits styled perfectly with the right accessory.
We sit down and chat to Lauren about all things style and her thoughts on our newest colour Butterscotch
We LOVE having you onboard with us here at Raie. What plans do you have in store for the future?
LB - I'm trying to plan less and trust that whatever is meant to be for me will be - so we'll see!
This is your first time trying our 90's style Evie Sunglasses, what is your favourite colour from the collection?
LB -  Butterscotch for sure!! I've always been drawn to a tortoiseshell frame so this colourway is my new go-to.
How do you feel living in the relaxed town of the Central Coast reflects on your creative processes?
LB -  It definitely has its pros and cons! I'm lucky I live 5 minutes away from 15+ beaches so I always have plenty of options when it comes to shooting swimwear or using the texture of the sand for product shots and so on. I find locating neutral buildings for my street style shots a lot more challenging, however. There are a lot more options in the city!
What initially inspired you to start documenting your fashion on Instagram?
LB -  I've always adored and taken great pride in the pieces I purchase. Initially, Instagram was my creative outlet to capture these items and share what I was loving. I started with flat-lays and then started experimenting with styling and outfit inspo. Almost two years later and here we are!
What's your best advice for everyone who is trying to find what they love to do?
LB -  Great question! That can be interpreted in so many ways - your job, hobbies, the people you spend time with and how you spend that time. I think my biggest advice would be to stay true to you. Don't give in to social expectations or feel the need to follow the crowd and do "what everyone else is doing". Take your time. Only when you focus on yourself and look inwards will you find clarity on what it is you love and how to incorporate that into your life as much as possible.
What are your favourite local Australian brands?
LB - I have too many! Matteau, Third Form, Zulu & Zephyr, Grown Alchemist, Alias Mae, Ziah and Raie of course!
Who would you like to have a 30-minute meeting with?
LB - Easy - Cara Delevingne
What do you feel when you are feeling uninspired?
LB - It's not very often I'm uninspired, I find inspiration in almost everything, but when it does happen I would say I feel deflated.
Who do you love to follow on Instagram?
LB - @nycbambi, @mvb, @laurajaynevince, @bellathomas, @sophiaroe, @digitalm00d, @felixruizdiez and my girl @__mmaxinewylde the list is endless though!!
Best advice you have ever received?
LB - Everything happens for a reason.
Shop our beautiful new orange tort style here!