We talk lipstick, lashes and SPF with Holly Fraser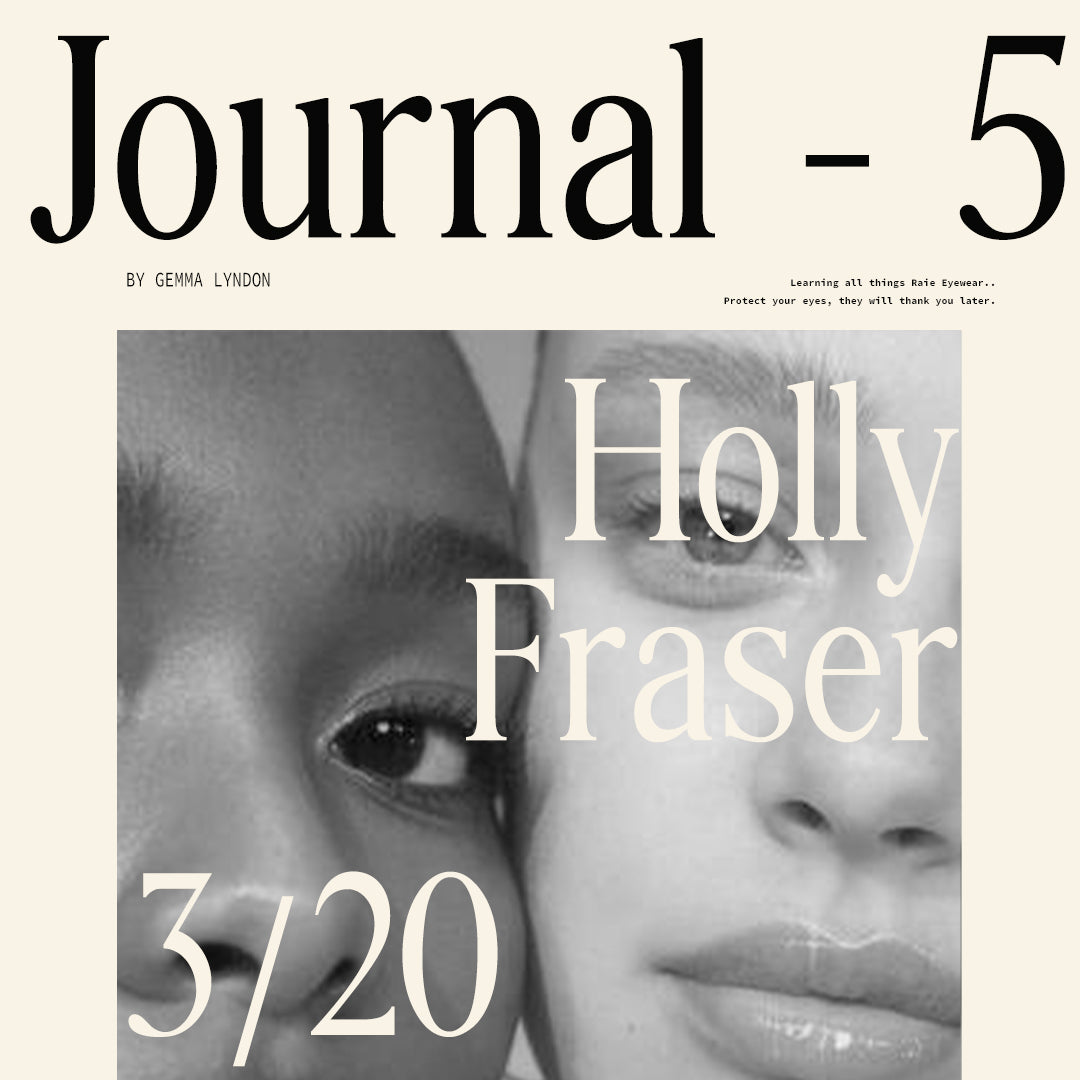 We had so much fun at the campaign shoot, your makeup was equal parts chic and cool! Tell us how you created the makeup look for the girls at the shoot! 
Holly: I absolutely loved being a part of the campaign, it was such an awesome vibe and right up my alley for the looks required!
The most important part of the looks created was the skin! Because the eyewear would cover the eyes often, I decided to keep them quite minimal and focus more on the complexion, which is my favourite part!
SKIN
To create the looks I started by properly prepping the skin with cleanser and moisturisers/serums. One of my fave products is the Go To Face Hero oil! In hydrates the skin and lips and absorbs nicely into the complexion.
I then created a dewy complexion using cream/liquid foundation, contour, highlight and blush! I absolutely love cream and liquid products to create a dewy finish! Some of my fave products include the Becca Shimmering Skin Perfect and the Nars Liquid Blush!
BROWS
Brows are another feature I absolutely love- for these I used the Beachy Brows brow soap, and Anastasia Beverly Hills Brow Palette! This created a fluffy brow!
EYES
Eyes were very minimal - focusing on a bronzey look, with fluffy individual lashes! Adding a pop of white to the inner corner of the eyes opened them up and made them look bigger. 
LIPS
Gloss is my favourite lip product and has been for so long! I think it creates a beautiful finish to a makeup look especially when the skin is super glowy! 
We created so many elegant looks together at the shoot inciting a 90's vintage revival with all the imagery. What was your favourite look from the shoot?
Holly: There were so many amazing looks from the shoot it makes it super hard to pick! One of my favourite looks was the Evie Pink on Elsa! The whole look was so chic and gave me all the 90s vibes! The shots of her on the floor give me life!
Your Instagram showcases looks from effortlessly there to fresh and feminine. What are your top 3 products you can't forget for a day on set?
Holly: If I had to narrow it down to just 3 that I use on a lot of my looks it would be:
Eye of Horus Goddess Mascara- It's so black!! It creates such a gorgeous finish to the eyes - I can't live without it!

Nars liquid blush - I absolutely love blush and don't know how I went so long without this product in my kit! I love Orgasm and Luster for different finishes

Fenty Gloss Bomb lip gloss - I don't think there's a single makeup artist out there who doesn't have this in their kit! It seriously is so incredible, I use it on clients, shoots and I have one in my own purse!
To create a natural styled look, what are your favourite cruelty-free and natural makeup brands?
Holly: I absolutely love Eye of Horus! They are cruelty-free and have been a part of my kit since day 1! I also love the Go-To Skincare range! Their sheet masks make the perfect prepping product for the skin!
When you are in a rush, what's your everyday makeup look?
Holly: My every day makeup is super simple, and the most important thing for me is making sure my skin looks super glowy! I can smash out the following steps in less than 10 minutes for my everyday look!
Prepping the base with a moisturizer and hydrating mist
Foundation + cream contour
Liquid blush and highlighter
Set lightly with translucent powder
Add a bit of powder bronzer to warm myself up
Brow soap into eyebrows, then a bit of brow powder
Mascara
Lip balm (I always make sure to have lip balm handy!)
Set with a setting spray!
For all of Australians, we know how hard it is to find a good SPF that isn't shiny, sticky or ruins your makeup! What are your favourite SPF sunscreens, foundations or moisturisers?
Holly: I really am a huge fan of the Go -To Skin range and their SPF Daily moisturiser - Zincredible- is fabulous! It comes in regular and tinted! SPF is so important, so I definitely recommend using it as a skin prep product for during the day under makeup!
How would you style the Bambi Moo sunglasses?
Holly: Honestly I would style them exactly how they've been styled for this campaign! I love 90s fashion, and this shoot perfectly captured the essence of the era! That's exactly how I'd be styling them on the regular!