WOMEN OF RAIE: CASSIE EBNER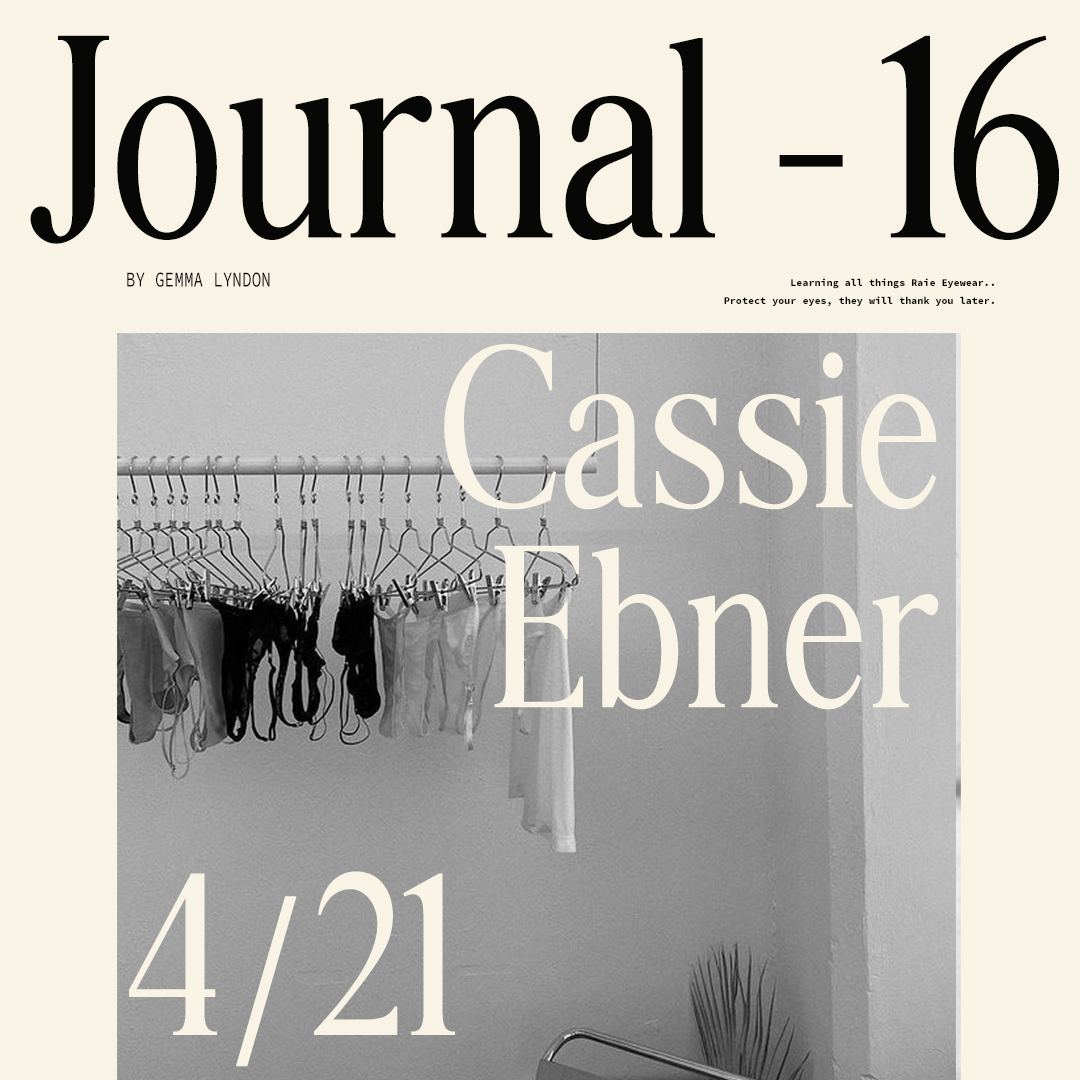 Meet Cassie from Palo Santo Studios. 
Take one look at their beautiful downtown L.A showroom with floor to ceiling glass windows, and you'll see why it was love at first sight with this creative studio. 
What do you think will be the biggest fashion trends in eyewear for 2021? 
2021 is going to be a year of creative expression as everyone emerges from their quarantine cacoons. I can't wait to see the wonderfully wild thing people do. I personally can see an updated classic cat eye coming back. I also think 90's minimal frames will stay strong because they're so chic and go with everything! 
What is your favourite Raie style and what outfit would you wear them with? 
I adore the Jacquie and Lakota. The jacquie is perfect to throw on with my favorite Ralph Lauren baggy cargo pants, and an Arq cami with my celine bag. I love the Lakotas with my low rise black 90s stretch pants and a baby tee with my vintage louis vuitton tucked under my arm. 
What trend do you hope to see stay behind in 2020? 
Isolation 
What was one thing you learnt during lockdown? 
I joined a meditation workshop called Benshen and it's taught me incredible tools to cope with change and how to tap into the highest version of yourself who only wants the best for you
. 
Tell us about the story behind PSS, how did it come to be? 
It's a long story, but the short of it is — I was lucky enough to be mentored by an expert who had her own showroom, and worked under her for 6+ years. At the end of my time there, it became clear to me that I wanted to integrate my creative eye and talents to help brands express their vision to their new global audience (instagram! haha). She encouraged me to start my own business that integrated showroom & creative studio. Thus — PSS was born! Since then it's unfolded into an incredible journey and I am pleasantly surprised everyday at the opportunities and amazing people I get to work and create with. 
We are drooling over all of the creative you make for PSS, what is your tips and tricks for nailing the perfect moodboard and imagery ? 
My formal training is in art and design, so I naturally am drawn to pleasing composition and have a catalogue of historic art references in my brain. My recommendation would be to get out of yourself instagram bubble and explore architecture, furniture design, nature, and look for the patterns, shapes, and textures there to inform your ideas for a shoot. Once you have that base palette of color and texture, you can search pinterest and tumblr for images that can bring to life these concepts. I'm also very inspired by the human form and the way light interacts with it. 
What do you do when you are feeling uninspired? 
There are totally days I wake up uninspired and it seems impossible to create. When that happens, I ground in and focus on my WHY. Why am I doing this? What is my purpose? Connecting to that, and letting go of the "how", is often what helps clear my brain fog and bring me back to my passionate pursuit of creativity. 
Who is your biggest fashion Icon? 
Not to be basic, but, Kim Kardashian (once Kanye started styling her).
Who do you love to follow on Instagram? 
@devonleecarlson is one of the most genuinely sweet human beings on the planet and watching her continue to grow and create through IG has been so fun! I also love the mood board account @le_cime and @fashiongonerogue. 
Who are your favourite local brands? 
I wear The Great Eros or Kye Intimates daily under my clothes (or as my clothes). I always keep a June's bag on me as my tote or market bag. My jewelry is always either Wolf Circus, Merewif, Winden or Young Frankk. I love Angie Bauer's 90s minimal pieces. For bags, I love a Bronze age, Marie Turnor, and Sonya lee. I also love On my Way bags. Decade Studio is a MUST for denim. Xevi Fernández is the best pant suit in town. I also love MNZ, Priscavera, and Ciao Lucia. I love mixing these brands with vintage, and then I invest in 1 designer piece a season. 
Thanks so much for sharing Cassie x