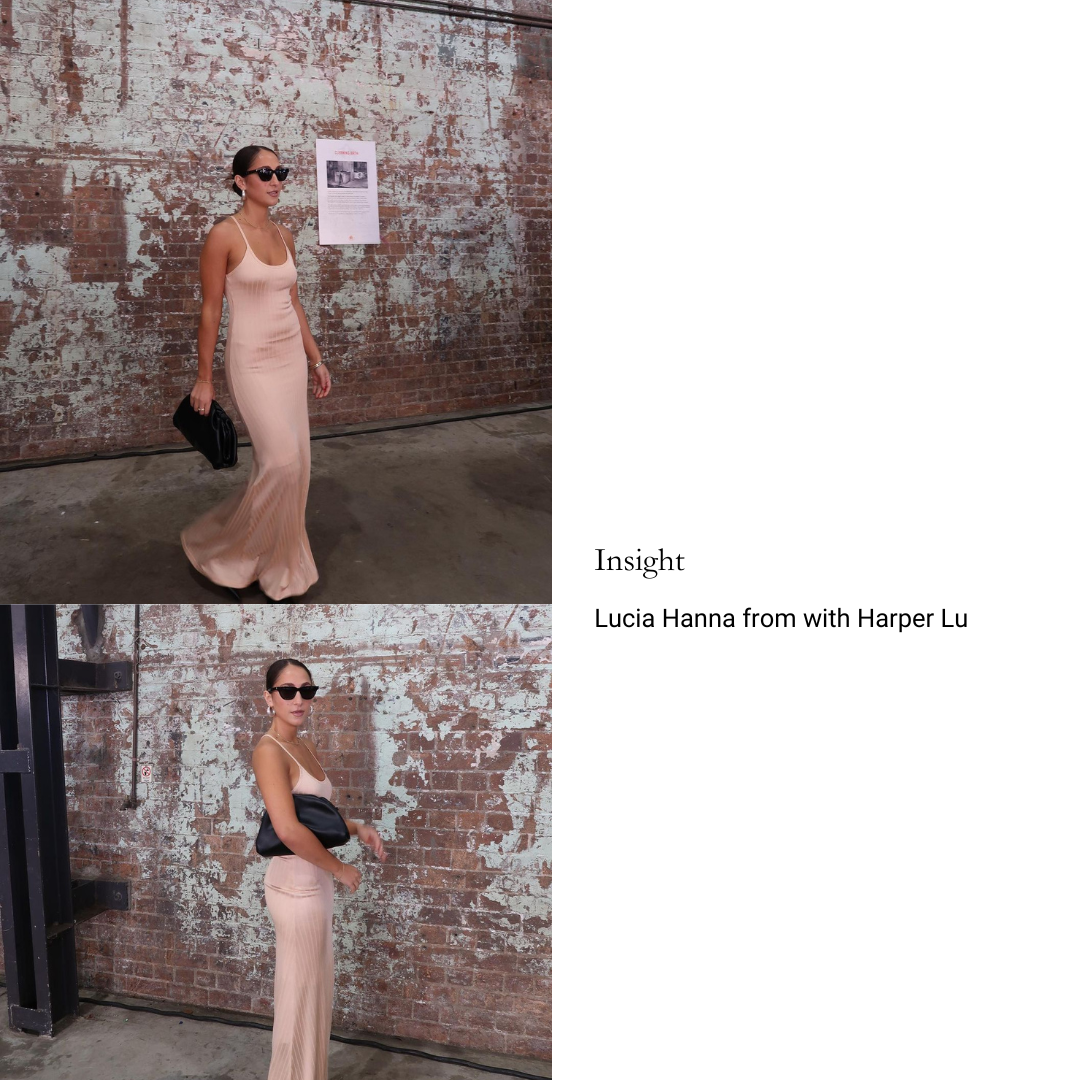 You must be living under a rock if you haven't heard of it-girl brand 'With Harper Lu'. Co - Founded by Lucia Hanna, the brand sells out within seconds of launch. We chat to Lucia about their success and how they created such a huge hype around their drops!
How long have you wanted to start your own business?
 
There was no particular moment that owning my own business became a priority.  Fashion, creativity and individuality was my source of inspiration and creating with Harper Lu with my mum/business partner was the way to fulfill this dream.
Lucia wears our Phoenix Latte sunglasses, shop
HERE

What were the first steps to creating with Harper Lu?
 
We believed there was an opportunity for our brand designs and we spent time identifying ways to capture the attention of our target market. Additionally, recognizing what our 'niche' in the market would be and creating a business plan for our original ideas and concepts.
How long have you been obsessed with fashion?
23 years :)
What has been your biggest high since starting a business?
There are many high's.  The customer feedback and support has been phenomenal.  Watching our visions become reality is amazing and being contacted by so many fashion stylists, influencers and industry professionals in general, is always a wow moment for us.
Why do you prefer to get everything made locally rather than offshore?
We are proud to support the local industry.  The quality is fantastic, the communication and service is brilliant and we hope that by sustaining local manufacturing, this will help to encourage growth in the manufacturing industry in general in Australia, particularly after such a difficult 2 years with COVID restrictions. We also prefer to meet face to face with our extended manufacturing team, it is just our personal preference.
What is your inspiration behind your graphics? Do you design your prints from scratch?
 
Our prints are now designed from scratch.  We visualize the concepts and meet with our graphic designer to fine tune and bring the concepts to life.  Aesthetics is the core to our inspiration and beautiful prints and fabrics are what really excites us.  We love florals and this is evident in a lot of our designs.

How often do you design collections?
 
We are constantly working on creativity and designs.  We plan well in advance and don't necessarily follow trends, we create what we would love to wear ourselves at that time.

Is with Harper Lu your full time job, what does your day look like/morning routine?
 
Yes with Harper Lu is my full time job and has been for 2 years now.
I thrive on routine and start my mornings the same way everyday. The first thing I do in the morning is check my emails, then most mornings I go to my local pilates studio. In the afternoon we usually have appointments with our manufacturers or pattern makers. Then there is also daily order preparation and so on.
 

Fave places to spend your weekend in Melbourne?
 
I love going to nice restaurants and getting dressed up (of course). I enjoy being outdoors, going to the beach or walking around my local parks with my friends and family. 

What are your plans for 2022?
 
Moving into our new offices is happening as we speak, this has been the plan since lockdown ended late 2021. We are excited to turn our new office into a great creative space for us as we continue to grow. We will continue to utilize colour in our designs.  As much as we love black, we love to design and experiment with colour in our fabrics.

What is the most important lesson you have learnt from running a business?
 
Be prepared for lots of hard work, surround yourself with good people you can trust and have a great working relationship with. Don't be afraid to take risks and trust your intuition. Be patient, nothing happens overnight.
Thanks so much for sharing Lucia!
Follow With Harper Lu
HERE