WOMEN OF RAIE: TESS FROM SMACK BANG DESIGNS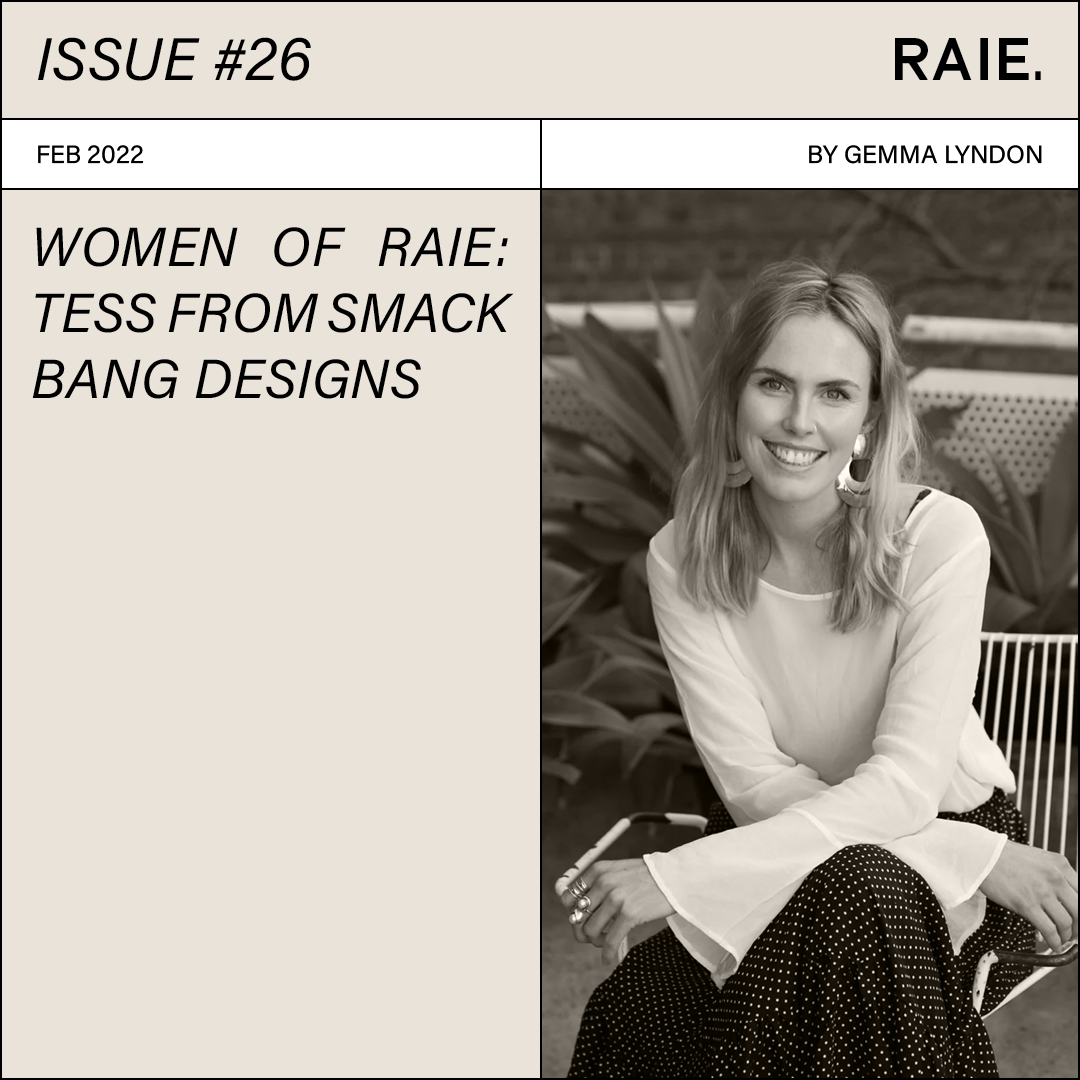 We sit down and chat with the gorgeous Tess from Smack Bang Designs! Tess is the founder of an extremely aesthetically appealing design agency based in Sydney, Smack Bang
Designs!
Pregnant with her second bub on the way (congrats!) Tess if full of major wisdom bombs about all things branding.
We are so privileged in this day and age where more and more people are having the freedom and courage to start their own business. What is your definition of a business who has a strong and recognisable 'brand'?
I think brands with heart are the recognisable ones. Those brands that prioritise purpose, get clear on who and what they stand for, and exude their vision in a genuinely authentic way. These are the brands that remain meaningful and memorable well beyond the launch of their first product range. 
Also, brand's who's vision is greater than their product features — The brands that connect with their consumers on a meaningful level as opposed to just selling another product. These are the brands that sell a lifestyle or solution beyond the product that truly makes a difference to their consumers' lives.
There are so many forms of branding, creating a personal brand is one we continue to change as we evolve.  What do you think your personal brand is? From an outsider looking in.
Oh, that's a tricky question… It's always hard to know how you come across to the outside world.
I like to think that I keep it fairly real. I would hate for anyone to assume that I have it all 'buttoned up' or have my life together on a daily basis. I try to be as open and honest about the shit show that is life managing a couple of businesses with small humans at home. One thing that I try to emulate is that my life is not picture perfect, nor the result of an overnight success — Everything I have achieved has been born from hard work and sheer determination. 
Above all though, I hope my personal 'brand' is authentic. That from an outsider looking in, they can tell that all that really matters for me is that the people I surround myself with respect and love me for being a good human — nothing more, nothing less.
Tess wears our Aries Honey sunglasses, shop HERE
I for one, feel so overwhelmed with all the different seasonal branding I see, whether it be tangible or not. What are your graphic design colour and typography trend predictions for the rest of 2021?
I think we're living in an interesting time whereby the importance of story and meaning far outweigh the graphic executions through which they are displayed. I think as a collective, we are all gravitating toward brands that 'feel' a certain way, or speak to us on a fundamental, value-aligned level, as opposed to gravitating toward a company because you think their branding is 'cool' or 'on-trend'. Consumers have smartened up and wish to only purchase from brands who provide solutions based on a shared vision of how the world should be. To me this is a hugely exciting space. 
That being said though, I think we're seeing a lot of fun and zany branding emerge as a result of the confinements and worry of 2020. Brands are bravely experimenting with outlandish colours and executions that would previously have been seen as too wild to resonate. 
What does it take to be a 'great' graphic designer rather than a good one?
I would say design beyond graphics — A strong level of conceptual thinking and a resolute understanding of commercial viability. I always hire designers who are natural storytellers with an innate ability to weave meaning and resonance as an intrinsic part of their designs. 
Tell us about your daily routine heading into SBD, I am a sucker for a good morning routine:
My morning routine at the moment is not the picture of zen I'd like it to be. It starts at 5am, where I get up (after a very broken sleep with my toddler who is
still
allergic to sleep), I make a hot cup of chai and sit on the lounge to smash out as many emails as possible before my daughter Dylan wakes up. Then, we eat brekkie together, before I get her ready for daycare or her nanny. By 8-8:30am she is settled into her day and I quickly walk the dog, grab a large coffee whilst emailing on the run, and aim to be sitting at my desk by 9am to be available for my team. 
It's not perfect, there's no time for meditation like there used to be, and most mornings I feel hungover levels of tired, (despite not having drunk alcohol in 9 months), but it's my morning, and I'm grateful for it — The good, the bad and the seriously rushed. 
Mum of a little girl and another on the way, I am sure you have a crazy busy schedule! What mindful practices do you implement into your daily life?
Life is pretty nuts right now. 
We've just bought a block of land, so we're in the midst of planning a new build, whilst renovating our existing house and packing up to move in a month's time. We've got two businesses that are experiencing huge growth at the moment, and a toddler who's nickname is 'Dynamite Dylan' for obvious reasons. ...Oh, and we've got a new bub due in just over a month. 
So, it's safe to say that any mindful practices are slim to none at the minute. But I know this is just a season, and life won't be this chaotic forever. (Or so I'm telling myself!)
I guess the one thing that is keeping me sane right now is starting the morning before Dylan wakes. Having that time to myself, despite me prioritising work, is a real game changer. 
Favourite objects in your wardrobe at the moment?
At 8.5 months pregnant, there's actually not a lot in there that fits! So I'm really favouring all the oversize knits and pieces that provide comfort whilst still maintaining a level of respectability ;) 
Anyone that knows me, will know that I'd be lying if I said my wardrobe wasn't 90% Zulu & Zephyr. I live in their stuff and find it fits with my lifestyle perfectly. 
Fave way to style your Raie sunglasses?
Love my Mary's. Being almost winter here, I've been styling them with a lot of black. They're easy to wear and pair back with almost all of my wardrobe, so that's a win.
What are some of your top tips for staying motivated and staying creative, as essentially your creativity is what sells. Do you find your creative inspiration scrolling cyberspace or while in nature?
As a beach devotee, I find living by the coast and being able to dip into nature as often as I can is great for my creativity. I also find that when the sun is out I'm way more inspired and motivated. I often describe myself as an actual solar panel — Fully charged with UV. 
I find I'm at my most creative when I'm striking a good balance between all aspects of life — when I'm flowing between having space to myself (an introvert at heart), coupled with dynamism. As much as I hate to admit it, I have to be busy to be creative. Being idle does not equate to inspiration for me. I need momentum, pace, change and excitement.
What is your biggest hope and dreams in your:
Personal Life - To be the role model that Dylan needs. 

Business Life - To lead my team and support my clients to do great things.
Thanks so much for sharing Tess x
Follow the beautiful Tess here